I don't know whether it's sentimentality or practicality – or maybe both – but I love Radio Shack. While there are stores and/or online vendors who offer a wider assortment of embedded devices and electronic components, their Radio Shack stores are everywhere, and the selection is good. And although the prices are higher than ordering directly from China, I can have a part or board in hand in 15 minutes if Radio Shack carries it. You're buying the item + unbeatable convenience, and all things considered, it's a pretty great deal.
Years ago, I bought a little multimeter kit from Radio Shack. I needed a multimeter, and I kind of wanted to "build it myself". The ArcherKits are easy to assemble, with just enough soldering and small work to give you immense satisfaction every time you use it.  🙂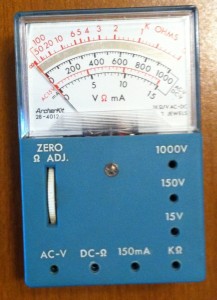 I've since upgraded multimeters to a nice digital model, but you know what I keep in my embedded device toolbox? My trusty old analog ArcherKit multimeter. It's not fancy, but it's nearly indestructible and it just works.
Just today, I couldn't remember how to take a measurement that I rarely have call to make, and when I went to look for the operator's manual, I couldn't find it. Searching online didn't help, either. I finally did locate it…but it occurred to me that others may find themselves in the same bind. And no one should have a great tool without having the instructions handy. So…below is a snapshot of the basic foldout of operating instructions. Simple, straightforward, and essential!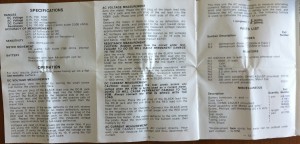 If you have an ArcherKit 28-4012A multimeter, I hope you're still enjoying it as much as I am. When absolute digital precision is required, this little guy gets a well-deserved rest…but guess what sees the most action?  😉
Keep MAKING,
Mark

Related Posts:
Please check back for related posts!
Tags:
28-4012A
,
ArcherKit
,
instruction
,
manual
,
multimeter
,
operating
,
Radio
,
Shack